Apaiser TULLE Bathroom Collection - Marble Stone Bath, Basins and Bath Stool


Jun 15, 2022
Apaiser TULLE Bathroom Collection - Marble Stone Bath, Basins and Bath Stool
NEW TULLE COLLECTION HANDCRAFTED BY APAISER ARTISANS
TULLE is an impressive new bathware collection, inspired by the the fabric Tulle, Haute Couture Gowns and architectural contours.
THE INSPIRATION
Named after the exquisite fabric tulle, which is synonymous with bridal gowns, haute couture and classical ballet, tulle is the embodiment of lightness and sensuality, delicate strength and purity. Dating back to the 18th century, the fabric takes its name from the French city of Tulle, known for its lace and silk production, where it was crafted painstakingly by hand. It can be rigid, voluminous, fashioned into uniform layers, or softly draped to create gentle waves. Its ethereal, transparent qualities and classic forms, transcend time, exclusivity, style and gender.
This chic and romantic fabric has long been a couture staple. Dior, Giambattista Valli, Rodarte and Saint Laurent, among others, have made statements using tulle through various decades and collections. Combined with leather and metal it takes on a tough and androgynous style. Fashioned into a voluminous gown, or ballet costume, it is delicate and feminine. Paired with sportswear, it takes on a casual air and injects a little luxury into the everyday, for anyone.
Just like its namesake, the apaiser Tulle Collection is refined and graceful, whimsical yet disciplined, subtle but arresting. It is a collection which, regardless of your style, will be a piece of performance art in your bathroom.
THE COLLECTION
Mimicking the ebb and flow of the fabric, the collection is defined by a perfect profile of slender, uniform reeds. The texture creates depth and interest, while the undulating surface plays with light and shade. The collection is most arresting when finished in soft whites, or moody darks, which emphasise light and shadows highlighting the architectural detail.
The new Tulle collection is comprised of a freestanding bathtub, countertop basin, single and double vanities, and matching side table or shower stool.
Credit: Apaiser
Tulle Bath Stool in Diamond White
All apaiser pieces are handcrafted by master craftsmen in our ateliers from apaiserMARBLE® – a unique blend of reclaimed marble, combined with stone and minerals from the Australian Barossa. Our sculptural bathware collections are founded on a belief in sustainable luxury and desire to preserve our beautiful environment.
This collection is comprised of a freestanding bathtub, countertop basin, single and double vanities, and matching side table or shower stool. 
The Tulle Marble Bath
is the perfect expression of sensual modernity. The elegant contours and slender profile are decorative without being ornate. It is refined, graceful and beautiful. Synonymous with the collection, this stone bath sits aloft an elegant base like a piece of sculpture. Experience a comfortable soak in this generous-sized stone bath where couture meets ready-to-wear.
The Tulle Marble Basin
Designed with the same tailored profile, this stone basin is the perfect accompaniment to the Tulle Bath or our other more minimal, freestanding baths. Like the fabric, this beautiful stone basin can be dressed up, or down, to suit your own style.
The Tulle Vanity Basins
The sophisticated detailing of the Tulle stone vanities, elevate this bathroom staple. Favoured for their seamless integration of benchtop and basin, these stone vanities are functional pieces of bathroom art. Also available in a double form, they can either float as a wall-hung piece or sit aloft complementary joinery.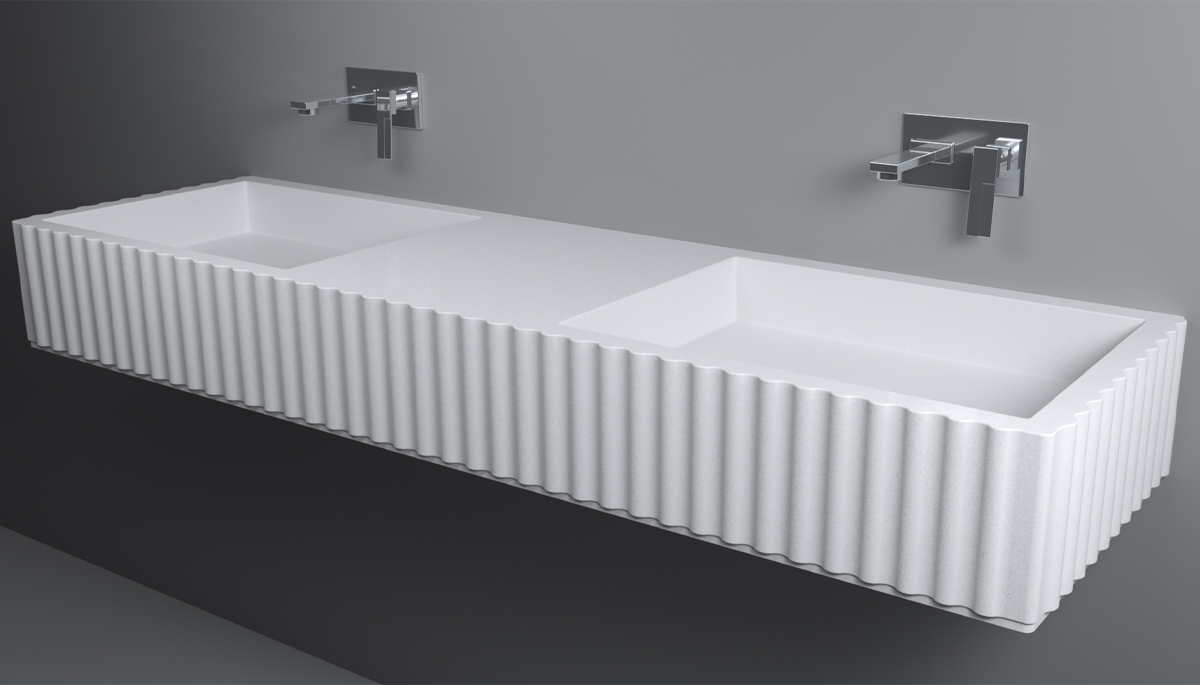 The Tulle Bath / Shower Stool
The marble bath stool is the final touch of luxury in any bathroom sanctuary, regardless of style. Designed for use as a side table to a bath or shower seat, the marble bath stool adds a finishing flourish to any stone freestanding baths from the apaiser collections.
As a leading Australian brand, Apaiser desire to preserve our beautiful country and the world around us, inspired us to explore recycled and reclaimed, ethically sourced raw materials and environmentally sensitive production processes.
The signature apaiserMARBLE contains up to 90% reclaimed crushed marble, which would otherwise be consigned to landfill. Sourced locally, close to our atelier, to minimise transport emissions.
Every piece of apaiser bathware is created by a team of highly experienced craftsmen and craftswomen in specialised ateliers. The designs are carefully cast and then hand sanded to perfection. Artisan hand finishing process gives their pieces a truly unique tactility and softness. 
Buy from the bathroom experts today
Please contact our passionate bathroom showroom consultants at our two Sydney locations –Drummoyne and Crows Nest — with any questions you have about adding this stunning new luxury bathroom couture handcrafted marble collection to your home.
Whether you choose to visit one of our Sydney showroom locations or you prefer to shop online, we have the products you need to make your bathroom and kitchen standout. Take your bathroom to the next level and visit Just Bathroomware for high quality luxe bathroom products that will make an stunning, value adding addition to your luxury home.
---