Smart Bidet Toilets & Seats
Smart Bidet Toilets & Seats
Innovative, practical and sustainable — smart toilets with bidets are the future of high-tech bathrooms. Smart bidet toilets are clever systems that are highly convenient additions to any bathroom. They are modern and functional solutions that perfectly ease into any bathroom style.
At Just Bathroomware, we have an expansive range of smart toilets with bidet functions. Whether you're looking to reduce toilet paper usage or searching for a more hygienic cleansing experience, our range of smart toilets in Australia can make this a reality in your everyday lifestyle. These thoughtful innovations are made to seamlessly fit your bathroom's interiors and enhance your space with style.
Redefine your bathroom experience with smart toilets with bidets
Smart bidet toilets are designed for multi-functional use. They have integrated washlets engineered to assist with cleaning using remote-controlled water nozzles and warm water washing for a comfortable experience. Smart toilets with bidets are also equipped with self-clean and automatic flushing mechanisms powered by sensors that ensure a hygienic bathroom experience. When you choose a smart bidet toilet, you'll also be able to enjoy other benefits of this revolutionary lifestyle gadget, including:
Relaxing temperature-controlled seating
Luxurious modern designs
Automatic deodorisation
Assistive night light lights
Reduced risk of overflow
Hands-free flushing
Increased water savings
 At Just Bathroomware, our smart toilets with bidets keep your hands and bodies clean without wasting natural resources. We stock a range of smart bidet toilets from international sanitary ware brands, including Duravit, Villeroy & Boch, Galleria and the popular TOTO Japanese washlet. These creations are fully equipped with customisable functions, including adjustable seats, nozzles and more.
Shop premium smart bidet toilets in Australia at Just Bathroomware
At Just Bathroomware, we are proud to stock the best range of smart toilets with bidets. Since 1997, we have delivered the highest quality bathroom products for residential and commercial spaces. In addition to our range of smart toilets with bidets, we also offer wall mounted pans and sleek, modern tapware that can be paired with your new smart toilets with bidets. If you're running short on time and are looking to redesign your bathroom swiftly, you can choose one of our complete toilet packages to create your ideal bathroom.
Enhance the aesthetics of your bathroom today and choose from the range of futuristic smart bidet toilets products available at Just Bathroomware. Get ready to add a sophisticated, stylish and convenient touch to your new bathroom by shopping online or in-store. Regardless of where you're located in Australia, we offer timely delivery services based on your renovation plan. If you have any questions or want to discuss your bathroom renovation, feel free to contact our experienced bathroom specialists at our Sydney showrooms in Drummoyne or Crows Nest.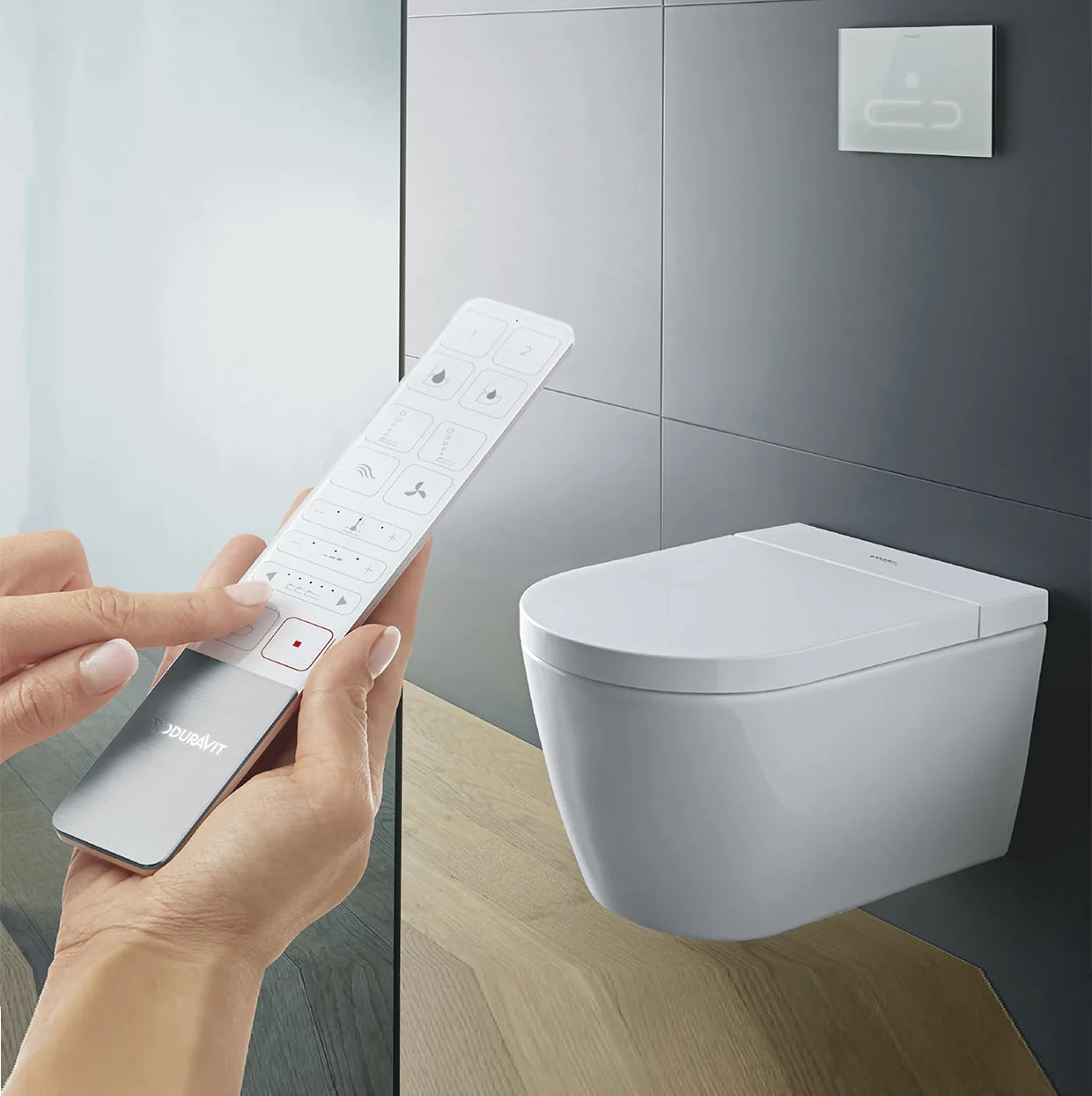 FAQs

What are the features of a smart bidet toilet?

Unlike a conventional toilet, smart toilets use a range of features to give you a more hygienic and comfortable experience every time you visit the bathroom. From antibacterial coatings that are literally baked into the ceramic surface to self-cleaning functions, as well as an integrated cleaning nozzle a smart bidet toilet not only provides you with a superior clean and more hygienic experience, but they are also easier to clean, maintain, and be easily used by anyone with accessibility restrictions.

Do smart toilets need electricity?

Yes. While most smart toilets run off the main house's electrical circuit, there are some battery-powered options to allow for after-the-fact installation in a space where rewiring may not be possible. If you're looking to buy a smart bidet toilet but aren't sure whether it's right for you, our team can advise you on the best model to suit your home's needs.

Are smart toilets reliable?

The range of smart toilets from Just Bathroomware has been carefully selected from the world leaders in their class to offer you reliable and perfectly engineered toilets that will last you for years to come. Whether it's for a new build or a recent renovation, a smart toilet offers reliability, cleanliness and a world of convenience.

Do smart bidet toilets clean themselves?

From the smart bidet toilet seat to the interior bowl, these models are equipped with the latest technology to make cleaning a breeze. Anti-bacterial glazes are baked into the ceramic to avoid bacteria and prevent dirt and limescale from developing, while smart functions like a pre-mist setting further prevent waste from sticking to or staining the bowl. The water jet wands also have a self-cleaning function to maintain a sparkling bacteria-free finish. All that's required of you is a gentle wipe with a soft cloth and occasional use of a gentle cleaner.

How does a smart toilet bidet know where to spray?

Our smart bidet toilets for sale use a precisely calculated angle and retractable cleaning wand to offer an accurate and thorough clean every time. The self-cleaning heads are positioned in the right way to avoid waste while offering a great clean every time.

Do you wipe before or after using a bidet?

If you're looking to buy a smart bidet toilet, the need for toilet paper is completely removed. You can choose to wipe before or after using a smart bidet toilet, or you can opt for a model with a dryer, which allows for a total clean without the need for toilet paper.

No matter which one of our smart toilet bidets for sale you choose, rest assured that the selection from Just Bathroomware features the best options for any home. From smart bidet toilets to tapware and more, we make it easy to find the perfect fixtures for your bathroom interior.