What is a Rimless Toilet & How Does It Work?


Mar 16, 2022
What is a Rimless Toilet & How Does It Work?
If you're in the market for a new toilet, consider purchasing a rimless toilet!
A Rimless toilet is the latest design innovation in toilets.  A rimless toilet (also known as a washdown or DirectFlush toilet) as the name suggests is a toilet without the traditional rim around the toilet bowl, the open design of the toilet rim enables water to flow in two directions to create a powerful flush that flushes the entire bowl clean to ensure hygienic flush results with less water consumption.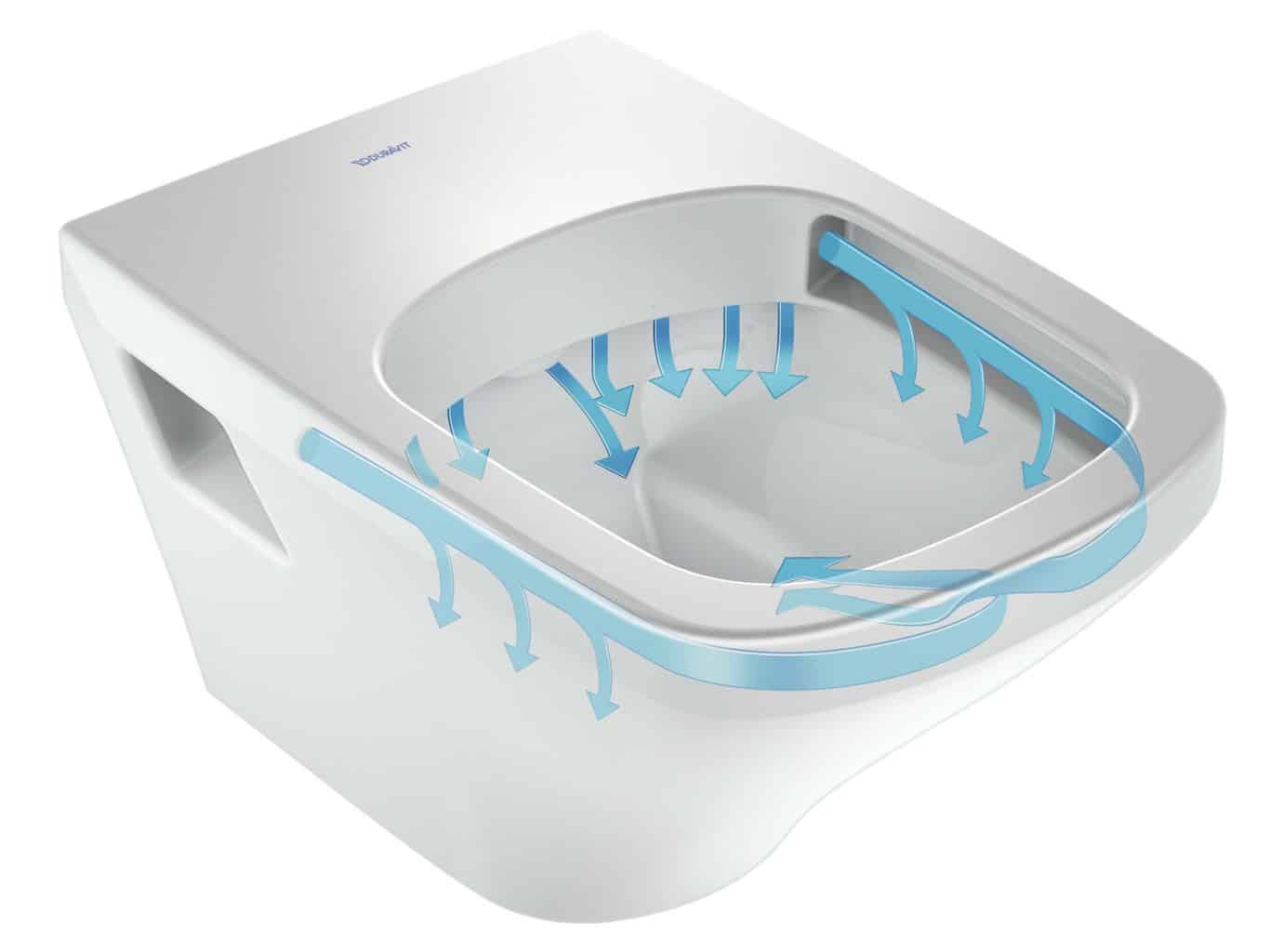 Duravit demonstrates in the image above how geometry, fluid mechanics and design can be successfully combined for maximum efficiency. In Duravit Rimless®, the open design of the toilet rim enables an innovative and powerful flush: water flows in the form of a horizontal arc, and then vertically, before flushing the entire inner surface of the bowl without splashing.
ADVANTAGES OF A RIMLESS TOILET
Easy to clean
Powerful flush
More hygenic
Water Saving
Functionality is combined with an appealing design - Rimless toilets are particularly easy to clean and are available to order as toilet suites, wall faced and wall hung toilet pans. Some of the leading rimless toilet brands on the market are the Villeroy & Boch Subway 2.0 DirectFlush as well as Parisi Ellisse MKII and Linfa.
The new rimless toilet trend has increasingly found its ways into private households in the last few years. Toilets without a rim contribute significantly to more hygiene in the bathroom. Bacteria and smells accumulate and spread under the rim of conventional toilets, as this area is difficult to clean. The innovative DirectFlush technology from Villeroy & Boch, which can be found in the Architectura, O.novo Vita and Subway 2.0 ranges, allows you to clean the inner bowl of your toilet completely and thoroughly. The unique flushing system prevents water splashing while minimising water consumption. So you save water while improving cleaning performance – an innovation that also protects the environment.
Duravit Rimless® toilets are available for the Darling New, Happy D.2., DuraStyle and Starck 3. Also the Duravit ME by Starck and P3 Comforts ranges.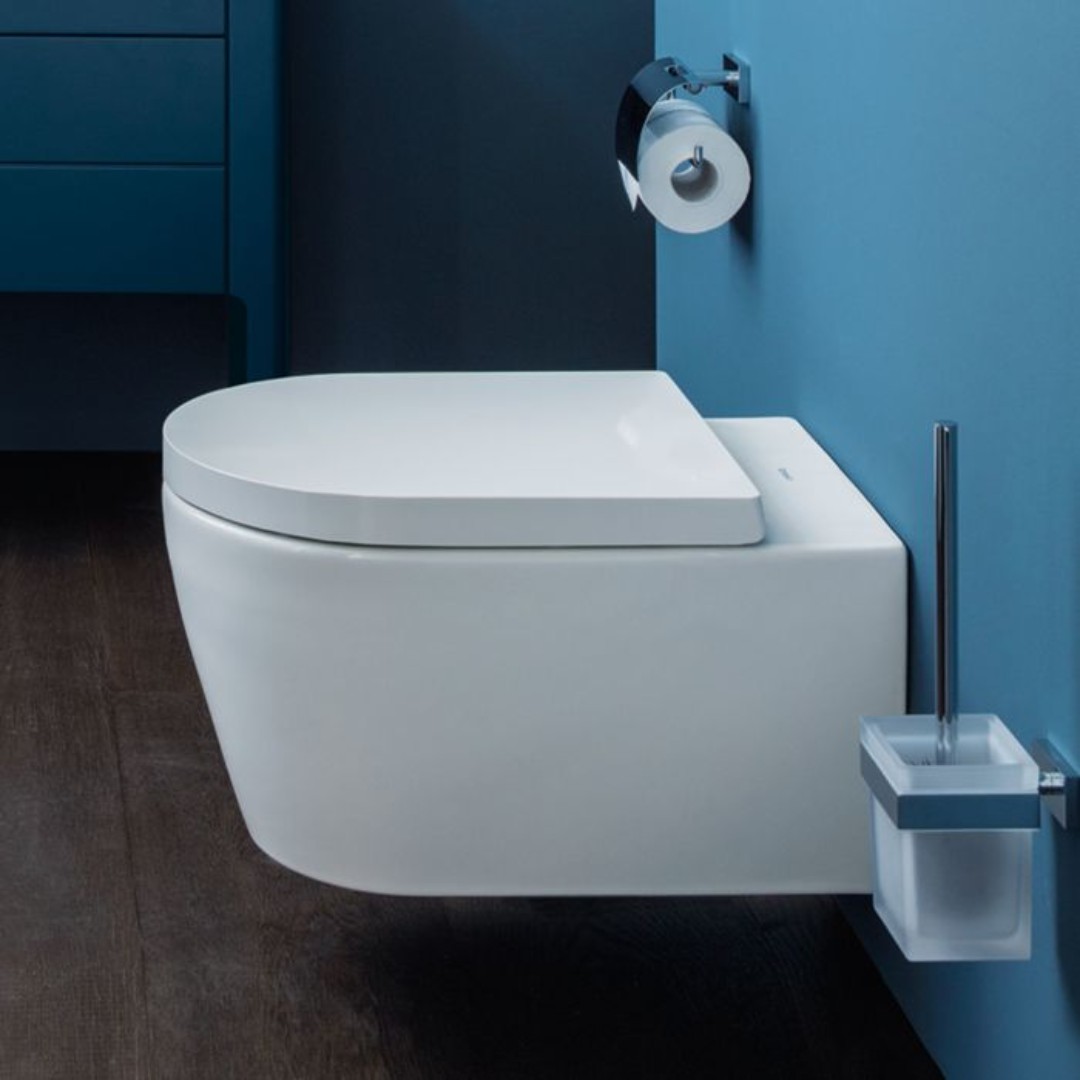 Duravit Me by Starck rimless wall hung toilet
Studio Bagno Manhattan rimless toilet suite and the GLOBO 4All and Mode With Globo's Senzabrida (no rim) design, flushing performance is optimized for a cleaner pan. With no rim, there is a continuous surface for easier cleaning, as there are no hidden Channels for bacteria to hide.
Most high tech smart toilets are rimless because of there easy clean flush and hygeine properties, intelligent toilets such as Duravit Sensowash toilets, Evo smart toilet systems from Argent and Villeroy & Boch and Confort Intellegent rimless toilets from Gallaria.
 Gallaria Alta Comfort Rimless toilet
Installation is not an issue, rimless toilets are installed in the same way as regular toilets. 
Service and Experience
Buying from Just Bathroomware means you are dealing with bathroom consultantants with industry experience, a flair for design, passion and drive. Our quality product brands, our service values and our exceptional staff are what set us as one of Sydney's leading retailers in bathroomware.
If you any enquires, want to discuss your bathroom upgrade or need help in deciding which rimless toilet to choose, get in touch with the expert consultants at Just Bathroomware! Contact us online or call us on (02) 9719 3000 for our Drummoyne store or (02) 9436 3888 for our Crows Nest store.
---